Find and Inspector | Standards of Practice | Members Only | Online Application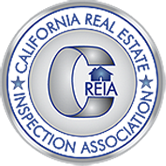 Our Mission Statement
To represent the Real Estate Inspection Industry
To recognize and promote Real Estate Inspection as a unique; professional discipline
To provide leadership through education and by maintaining ethical and technical standards
To enhance consumer protection and promote public awareness of the Association
Our Organizational Structure

Established in 1976, CREIA is a non-profit trade association, with chapters located throughout the state. CREIA is a member-driven, hands-on organization that provides educational programming and on-going opportunities for its members to interact at both local and statewide CREIA meetings and events. CREIA also provides many opportunities for its members to be involved in the governing of the association.
The CREIA Board of Directors is comprised of a eleven member board comprised of five State Directors and six Regional Directorsrepresenting the membership. In addition to the CREIA Board of Directors, there are several standing committees that report to the Board of Directors.
CREIA Regions and Chapters
Eight Regional Directors represent their Chapters/Members on the CREIA Board of Directors. Most chapters hold monthly educational meetings and special event programs. Each CREIA member is assigned to a local chapter. All Certified CREIA Inspector (CCI) and Master CREIA Inspector (MCI) members, Candidates, Affiliates and prospective members/guests are invited to attend local meetings. Chapter meetings are an excellent way to meet and interact with peers, participate in educational programs, and market products and services to those in the inspection industry.